Zazenkai & Skype with Sensei Jose Shinzan Palma
May 13, 2017 @ 8:00 am

-

5:00 pm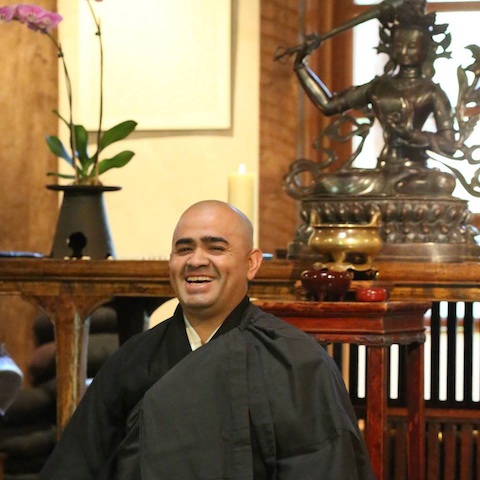 About the Retreat
Zazenkai means to "come together for meditation." During this time we will "sit alone, yet together with everyone."  This day-long sitting is a great opportunity to enjoy, refresh and be intimate with our practice of Zazen (meditation).  We will have the opportunity to sit for long periods which will alternate with walking meditation (Kinhin). We will also enjoy a delicious and healthy vegetarian meal together at lunch. This will be a day where we can go deep inside, enjoying silence throughout the day. Sensei Jose Shinzan Palma, who will join the retreat via Skype, will offer a Dharma talk halfway though the day.  
About Sensei Jose Shinzan Palma (who will join via Skype from San Diego)
Sensei Jose Shinzan Palma was born in Veracruz, Mexico, He is a zen priest and Dharma Successor of Roshi Joan Halifax. He has been practicing Zen since 1996. In Mexico City, he met Korean Zen Teacher, Ven. Samu Sunim. Shinzan trained in the Buddhist Maitreya Seminar under Samu Sunim as he lived in the Toronto Zen Buddhist Temple for 4 years. He was ordained in 2004 as a Zen Buddhist Priest. Shinzan arrived at Upaya Zen Centerin 2006 and became a resident and student of Roshi Joan Halifax. He lived there and trained for over 8 years. He received the Dharma transmission on Jan 2015 from Roshi Joan Halifax. He teaches Zazenkais and Sesshins at Upaya, co-teaches teen retreats in USA for IBME and he is a guest teacher in a Zen Buddhist Temple Einin-ji in Rio de Janerio, Brazil. Shinzan left the residency of Upaya to return to Mexico and start a community spreading the Dharma in Mexico. His vision is to teach youth and create a Zen Hispanic community in the USA and Mexico. Now he lives and teaches in the Dharma Bum Temple in San Diego, CA.